Sometimes, I dream in code...
Welcome! I'm Sherri Alexander, a freelance front-end web developer in the Boston area, with a passion for standards compliant coding and accessibility. You can rely on me to make your designs come to life in code. Since 1994, I've put my experience to work for companies and brands like Covergirl, MAX Factor, Campbell's Soup, MIT, Pubget, Wolters Kluwer, and M&M'S.
Contact me
Testimonials
"In almost 15 years, I have met very few people who possess Sherri's professional focus, perfectionism, talent, intelligence and positive attitude. She delivers products of great quality at great speed, a rare combination."
See what others are saying
Featured site: Covergirl
My role: Creating over 50 XHTML/CSS templates, which were then integrated into a CMS system to create the final dynamic site. The site required extensive Javascript functionality and had to be WCAG 2.0 accessible. Much of my code was changed in transition to the CMS; clean original code can be viewed upon request.
Check out my portfolio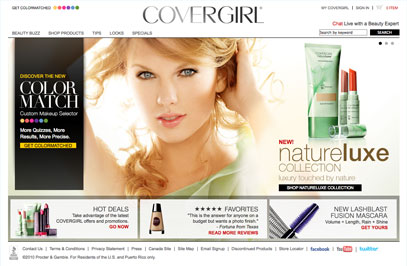 What can I do for you?
XHTML & HTML5
CSS3
Javascript/jQuery
Cross-browser compatibility
Accessibility
But technical jargon can't tell the whole story! There's more to me than just code.
Learn what makes me tick